Nokia 808 With Symbian Belle – The Game Changer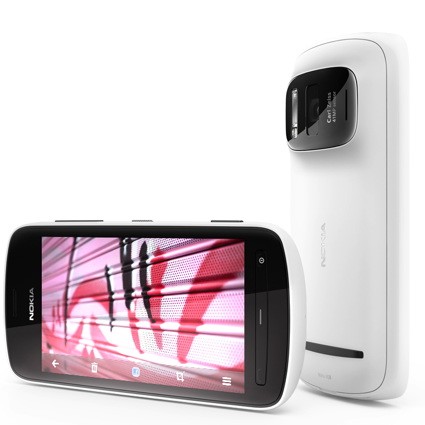 Hope you guys remember the Nokia PureView teaser video, we published a few days ago. The 808 PureView is Nokia's imaging flagship phone, a true successor to the N8. The 808 PureView runs Symbian Belle OS, powered by 1.3GHz single-core chip and 4-inches corner to corner display with a resolution of 360 x 640 (nHD). It also includes 512MB of RAM and 16GB of on-board storage expandable via microSD. A Pentaband modem increases the chances of getting a signal while globe-trotting, while data speeds will top out at plain HSPA 14.4Mbps. Lets go to the highlighted portion, the Carl Zeiss-lensed camera. The Nokia 808 PureView features a large, high-resolution 41 megapixel sensor with high-performance Carl Zeiss optics and new pixel oversampling technology. At standard resolutions (2/3, 5 and 8 megapixels) this means the ability to zoom without loss of clarity and capture seven pixels of information, condensing into one pixel for the sharpest images imaginable. At high-resolution (38 megapixel maximum) it means the ability to capture an image, then zoom, reframe, crop and resize afterwards to expose previously unseen levels of details.
In addition to superior still imaging technology, the Nokia 808 PureView, also includes full HD 1080p video recording and playback with 4X lossless zoom and the world's first use of Nokia Rich Recording. Rich Recording enables audio recording at CD-like levels of quality, previously only possible with external microphones. The Nokia 808 PureView also features exclusive Dolby Headphone technology, transforming stereo content into a personal surround sound experience over any headphones and Dolby Digital Plus for 5.1 channel surround sound playback.
Just to highlight some of the features of the best business phone ever:
The Symbian Belle comes with MS Office Mobile 2012 Business edition for free
Nokia Maps is free, turn-by-turn navigation for over 100 countries, and comes preloaded with Nokia 808 PureView. It works offline without a sim card unlike all android and iOS Phones.
FM transmitter – Nokia the only company to include it so you can Listen to music through your car stereo without cables
Nokia Rich Recording – the ability to record sound without distortion at around 140-145db. Most current smartphones record up to 110db. The Nokia 808 PureView records at volumes four times louder than conventional microphones. The lower bass sounds are also captured without distortion and by combining the upper and lower range together you're left with the full range of sounds. The result is almost CD-like quality.
Nokia is now comparing with the big guys in the photo industry and even beats some of them.
Nokia is sold on Amazon now  for $699