I love using InstantFox and I've been missing InstantFox so much that I started looking for way to fix InstantFox or find a workaround to the address bar not working issue since Firefox version 50.
Easy workaround is to add another search option with keyword of your choice. So anything that is location that you don't need to search (e.g. domain name), you can use that assigned URL with your keyword.
Here's how to do it:
Click "Add+".
Enter your desired custom "Short Name".
Define desired "Shortcut", I use "s" as my shortcut.
In search URL enter the following:
http://pand.li/if?loc=%q
In "Suggest URL" leave blank as it won't load any suggestions on domains.
This will redirect/load any other URL that is not a search website.
I usually enable "Take suggested result on enter" in the "Advanced" tab. That way, if I Google something, it always redirects me to the Google search results page.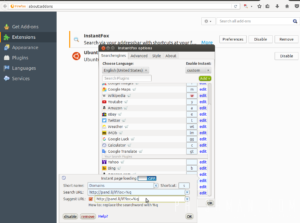 In some OSes like Ubuntu 12.04 for example I couldn't get the InstantFox to add new or modify existing bookmark (shortcut). The only way, that I found works is to go to "Add-ons" in Firefox and edit the plugin preferences from there.
See the image on the left with my settings. Now always I type "s myadress.com" the browser will take me to the myaddress.com URL or any other that I define, starting with keyword "s".
Here are their terms of use for the InstantFox redirects: http://pand.li/if?terms
I love InstantFox, but there's no more support for it. 🙁
I'm thankful for this workaround, so I thought to share…