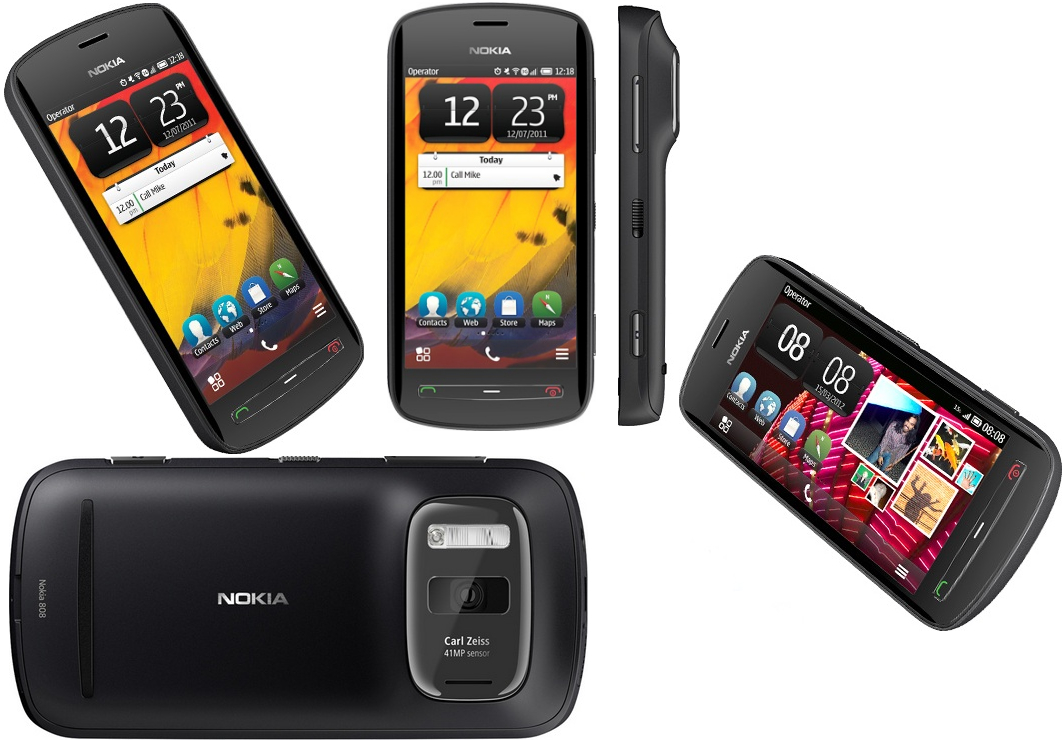 After three years since I posted about Nokia 808 PureView on my blog my Nokia N8 died and I recently bought the Nokia 808, so I thought to continue with my blogging about this camera, audio beast.
I won't hide it, I am a Nokia fan, it is obvious. But not with today Nokia, but the real deal – the Symbian Nokia. Let's get this straight, I don't write the below lines because, I am a Nokia fan but because I do care about quality not apps quantity with mediocre hardware.
This is THE BEST CAMERA PHONE EVER as of May 2015!
WARNING: Not your average gadget! This is a MUST HAVE gadget! Especially now when it's under $200 (from $700), buy until there are still quantities!
I don't write long and descriptive reviews about a lot of products on websites, but this is my review for an extreme quality cell phone.
I will not repeat someone else's reviews or comments, I will just write few words about the product that are important to me and share a pretty big list with bookmarks to resources, I found helpful for choosing this amazing device. Then you decide for yourself!
Product:
Nokia 808 PureView Unlocked GSM Phone with 41MP Camera with Carl Zeiss Optics and Symbian (Belle FP2) OS – Black
Support for Nokia 808PV support continued until the end of 2017 (what I heard).
Accessories:
1. ArmorSuit MilitaryShield – Nokia 808 PureView Screen Protector Shield + Black Carbon Fiber Film Protector & Lifetime Replacements (Amazon)
2. CellCase Octopus style Portable Adjustable Tripod Stand with Retractable Holder for Apple iPhone 3G 3GS 4 4s iPhone 5 5c 5s Samsung Galaxy s3 i9300 s4 (Amazon)
3. ( Black + Earphone ) LG G3 stylus Protective Stylish Fitted Faux Magnetic Button Pull Tab Pouch Skin Case Cover With Premium Quality in Ear Buds Stereo (There are no leather cases for Nokia 808 that I like, so I went with LG3 one). (Amazon)
4. Jetpack Battery Pack, 5100mAh (http://wordpressswagstore.tictail.com/product/jetpack-battery-pack).
As I saw in some previous reviews, this is the old extreme high quality build phone from Nokia (quality matters for me, not some mid-range, mediocre phones like Samsung galaxies, iPhones or HTCs, etc. with most of their low end hardware).
The phone quality is as always the best, beautiful, different as it is in all Nokia phones before. I love heavier phones with extreme quality hardware as we had in Nokia N9, N8, E7, N97, N96, N95, N90, N86, N85, E63… .. . 3310 🙂
But this model exceeds the hardware quality in any previous models (and in most current ones) – camera, sound, GPS, etc. (on that later).
PROS:
Camera:
41Mpx sensor, should I say more?
This is one of the best photo and video cameras I've ever owned on a cell phone. It easy exceeds my Sony DSC-R1 and Sony Cyber-Shot DSC-HX100V 16.2 MP Exmor R CMOS, the Nokia 808 phone camera is easy comparable to Canon EOS 5D Mk III, Nikon D800 and Sony Alpha 85/77 photo cameras in some cases exceeds color and clarity of the photo cameras. (See links at the bottom)
Live like colors, excellent sharpness and detail! Tweakable settings, few different point and shoot modes, PureView (PV) technology (the best on this phone only). Colors not over saturated and pumped up and you still have control over that. No matter which resolution you choose 2Mpx, 5Mpx, 8Mpx, 34Mpx it does a great photos at any resolution!
Beautiful HRD photos with 41Mpx sensor: http://smartcam.club/node/2983 (See links at the bottom)
Video at 1080p is live like, detailed and beautiful! (see for yourselves: https://www.youtube.com/watch?v=0Iy6QSQCCUo turn on the 1080 quality)
Audio, Sound and Podcast:
This is the part I'd like to discuss in more detail. I do podcast and this is a great device to have at any time in my pocket, when I meet new people, go to conferences decide to interview someone on the go, I just pull out my phone, my juice pack and start audio recording at any place, any time, any situation I'd like. The audio recorder is there always for me. The audio quality is the highest possible with high quality hardware (huge mobile audio chip). On the go, I have surround sound capable system with Rich Recording Stereo Sound with Dolby Digital sound quality. (See links at the bottom)
Rich Recording Stereo Sound technology, in development since 2007, was called Rich Recording, made possible by the special mics that Nokia created alongside its partners, which could take a sound pressure up to four times stronger than your average phone microphone. They are called High-Amplitude Audio Capture (HAAC) mics, and solve the typical disadvantage that the tiny diaphragm of your run-of-the-mill handset microphone has – to avoid clipping the sound at high 120 dB levels, which introduces distortion, a high-pass filter gets applied, which makes the sound very thin, as the low frequencies become non-existent.
GPS:
As with all Nokia Symbian devices the Nokia 808 PureView comes with Nokia Maps Suite, with free global, offline maps from NavTeq, voice guidance with text-to-speech street names, live traffic updates and speed limit and safety camera warnings.
The Suite includes the basic Maps app which provides either walking navigation, or switches to the Drive app for vehicular Sat Nav functionality.
Destinations can be found by text searching, Point of Interest (POI) browsing, location selection from the map screen or direct integration with the Contacts app.
Other apps within the Maps Suite are Weather, Guides and Map Loader which each do what their names imply.
The final two apps are Check In, which provides locational geo-status updates, and Public Transport, which provides scheduled public transport information for 87 cities around the world.
GPS acquisition is fast and GPS fix is stable with the help of Assisted GPS, Wi-Fi/Network and Network Based Assistance.
A little testing proved that even with all assistance turned off the fix was still stable although, as expected the initial acquisition took longer.
Settings:
Setting up GPS (enable), location tracking, connectivity and priorities for connection types takes a bit more than any other, but it's all great ones it is setup. In order to use all that you need to manually enable it. Which is the way I like it anyway. That way, I know what is working and how it is working.
Coverage and call quality:
Nokia (Symbian) never had any issues with connecting you at any place at any time with a good carrier. Sound quality during call can't get any better. Clear, loud sound that is easy understandable with the best coverage possible. Any Nokia user that had different phones will tell you the difference in the phone call quality.
HotSpot:
Easy to create a hotspot with Nokia 808 and JoikuSpot.
Battery:
The Symbian OS is one of the most efficient, lightweight OS in the world. Nokia uses single core, battery last days, and that is because the OS has the most efficient OS.
So far I take 2 full days of usage with web browsing, few photos per day, podcasting and music listening.
CONS:
– No up to date apps (not a problem for me and my device usage, I am not an app junkie). If you want to be up to date with all market apps go with Android phone!
– Discontinued for now OS, end of support in 2017.
Still in doubt? See the links below…
LINKS:
Device:
– Official Nokia 808 PureView Documentation: http://download.fds-ncom.nokia.com/supportFiles/phones/files/guides/Nokia_808_UG_en.pdf
– Full tech details: http://www.gsmarena.com/nokia_808_pureview-4577.php
Video & Photo:
– Video at 1080p: https://www.youtube.com/watch?v=0Iy6QSQCCUo (turn on the 1080 quality)
– The world of the big – Nokia 808 PureView vs Canon EOS 5D Mk III vs Nikon D800 vs Sony Alpha 85/77: http://mynokiablog.com/2012/06/18/nokia-808-pureview-vs-canon-eos-5d-mk-iii-nikon-d800-sony-alpha-8577
– Mystery Camera Revealed: Nokia 808 PureView Test Shots in the Face-Off (Nokia 808 PureView vs Canon EOS 5D Mk III vs Nikon D800 vs Sony Alpha 85/77): http://www.digitalversus.com/mobile-phone/nokia-808-pureview-p13536/mystery-camera-revealed-nokia-808-pureview-test-shots-face-off-n24775.html
– Nokia 808 PureView ushers in a revolution in smartphone imaging: http://company.nokia.com/en/news/press-releases/2012/02/27/nokia-808-pureview-ushers-in-a-revolution-in-smartphone-imaging
Audio Recording & Dolby Digital Plus Sound:
– Nokia 808 PureView Rich Recording Stereo Sound: http://lumiaconversations.microsoft.com/2012/03/23/nokia-808-pureview-and-nokia-rich-recording-brings-true-stereo-sound
– High Quality Recording in Nokia Phones: http://i.nokia.com/blob/view/-/3160090/data/1/-/High-quality-audio-recording-in-Nokia-Lumia-smartphones.pdf
– Dolby and Nokia putting Hollywood magic in your hands – and ears (Nokia 808 PV): http://lumiaconversations.microsoft.com/2012/05/04/dolby-and-nokia-putting-hollywood-magic-in-your-hands-and-ears
– Dolby Showcases New Nokia Smartphone at MWC: http://investor.dolby.com/releasedetail.cfm?releaseid=651541
– Nokia 808 on Wikipedia: http://en.wikipedia.org/wiki/Nokia_808_PureView